IMPORTANT: When you change the username/password in your camera backend, we strongly recommend that you use letters a-z and/or numbers 0-9 only. Some cameras will not accept HD streaming URLs if your credentials contain special symbols such as '@' and ':'.
After changing the username/password in your camera backend, please follow the steps below to change camera credentials under the Ozolio Dashboard:
Log in to your profile at clients.ozolio.com/login/
Open CAMERAS and find the camera you wish to adjust.
Click on ACTIONS
Open the camera settings (link at the right column):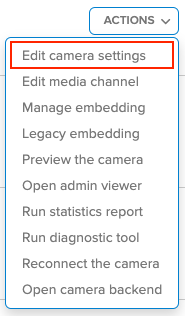 In 'General Setting', enter the changed credentials into 'Camera Login' and 'Camera Password'.
Scroll down and press "Save Changes".
If Ozolio still can not connect to your camera please contact support@ozolio.com.