Before publishing a Live Event to Facebook for the first time:
- Check the 'Event Publishing' prerequisites and requirements.
- If you want to publish a Live Event to a Facebook Page you manage, make sure the Facebook Page meets all Facebook Requirements:
If your

Facebook page

is listed as a

Business Page

, the page should be verified.
Facebook Business Help Community
Open 'Page Settings > Page Roles

'

and make sure you have at the minimum an 'Editor' role.
Add a new Facebook Publisher:
IMPORTANT: You do not need to create a new publisher every time you want to publish a live event. Any publisher created can be reused in the future.
Log in to your profile at https://clients.ozolio.com/login/
Open the 'PUBLISHERS' tab (link at the top of the page).
Click 'Add Publisher' (blue link on the right of the screen).
In the 'Publisher Name', give the publisher a name.
In the 'Default Provider', select 'Facebook'.
In the 'Default Camera', select the camera you want to publish.
Click 'Add Publisher', then "Close".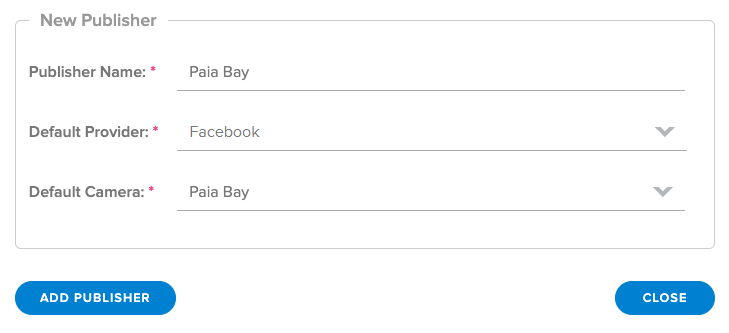 Start your Live Broadcast:
In the list of PUBLISHERS, locate your publisher and click 'Start Broadcast'.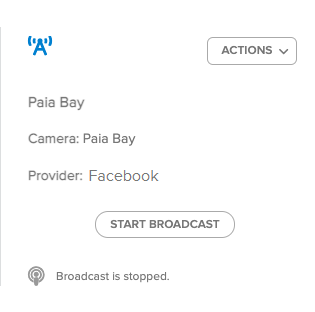 Select 'Facebook', optionally select another camera, and click 'NEXT'.
On the next dialog, select enter the 'Time Limit' and click 'CONTINUE WITH FACEBOOK'.
IMPORTANT: Any Facebook Live Broadcast is time-limited (8 hours max). After the time limit, the broadcast will automatically stop and Facebook will replace it with the recorded video.

Facebook will verify your account and provide a series of popup dialogs that allow you to finalize your broadcast setup and go live.
IMPORTANT: Facebook also provides an option to 'Schedule Live.' Please do not use this option. Ozolio starts the live event immediately.
If you did not succeed with the method above, please see "Troubleshooting of Facebook Live problems."