Before publishing a Live Event to YouTube for the first time:
- Check the 'Event Publishing' prerequisites and requirements.
- If you want to publish a Live Event to a YouTube account you manage, make sure to meet all YouTube Requirements:
YouTube Publishing Method:
Log in to your profile at https://clients.ozolio.com/login/
Open 'PUBLISHERS' tab (link at the top of the page)
Click on '+ Add Publisher' (blue link on the right of the screen) to add a new publisher:
In the 'Publisher Name' give the publisher a name.
In the 'Default Provider' select 'YouTube'.
Select the camera you are wanting to Publish on YouTube in 'Default Camera'
Press 'Add Publisher'.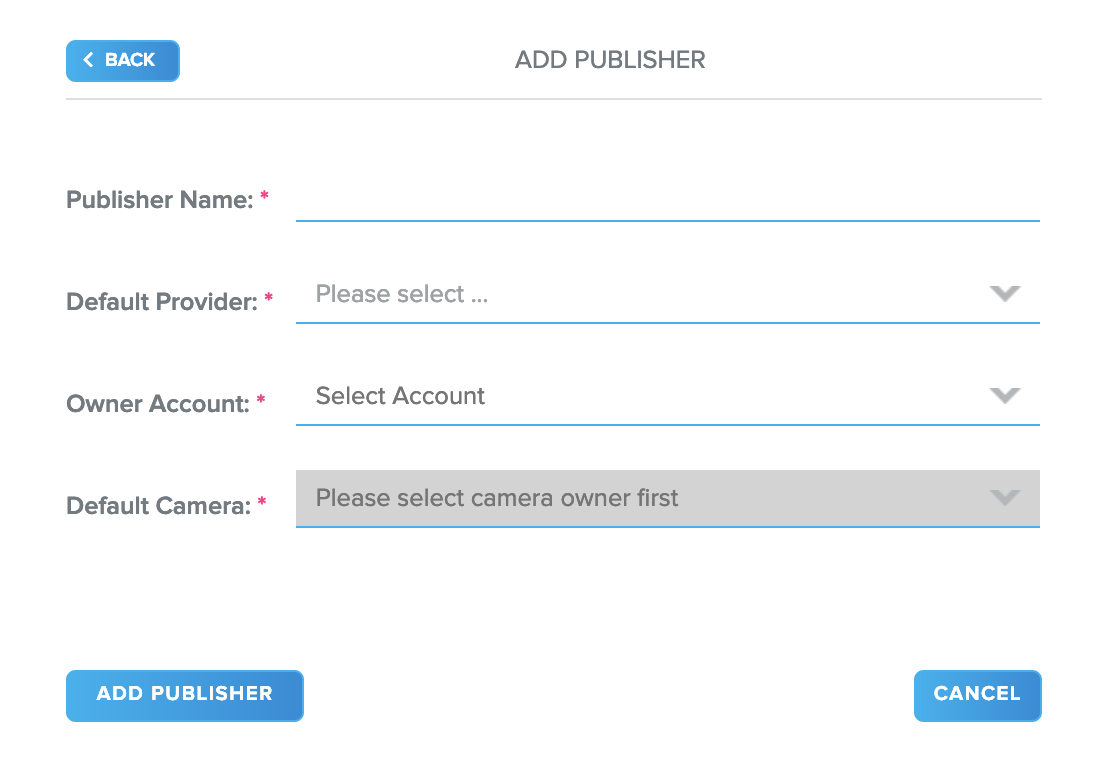 IMPORTANT: do not create a new publisher every time you want to publish a live event - any publisher created will be saved and can be re-used in the future.
In the list of publishers, press 'Start Broadcast' for the camera you want to stream.
Select YouTube under 'Provider' and press 'Next'.
Select the 'Broadcast Type' you want to use on YouTube.

TEMPORARY: Live Event that is time-limited (4 hours max). After the time-limit, the Live Event will automatically stop and YouTube will replace the broadcast with the recorded video.
PERSISTENT: This broadcast is not time-limited. The YouTube URL that represents broadcast will be always active. Selecting the 'Persistent Feed' broadcast type will bring up a custom title and scheduling options.
IMPORTANT: Only one persistent broadcast is allowed to run per YouTube channel. Configuring two persistent publishers to stream on the same channel at the same time will not work.
After configuring Broadcast Type', click 'Go Live'.
Open your YouTube Channel or YouTube URL and verify your Live Event has been published.
If you did not succeed with the method above, please contact support@ozolio.com